SoDaNet training services through the elearning platform are based on three pillars:
A. the methodology of quantitative and qualitative research and the analysis of quantitative and qualitative data.
B. the management, development, configuration, optimization and use of software and systems.
C. on the advice from the members of the Network to formulate a Data Management Plan (DMP). In particular in relation to data management, a guide has been developed by experts of CESSDA ERIC, the CESSDA Data Management Expert Guide (DMEG), to support social scientists in producing high quality research data. The guide shows how to make data Findable, Accessible, Interoperable and Reusable (Fair data) in line with the values of Open Science. The guide is currently available in English via CESSDA. It is being translated into Greek and will be available to any Greek-speaking user in 2022.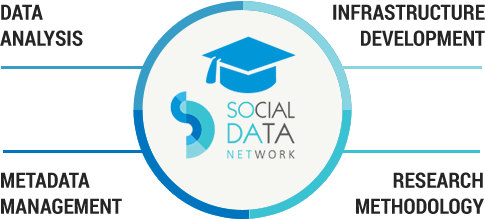 To access the educational platform, the user is required to register here.
The available e-learning courses are:
SOCIAL CAPITAL: ALTERNATIVE THEORETICAL APPROACHES AND EXAMPLES FROM GREEK EMPIRICAL RESEARCH
AUTHOR: DIMITRIS SOTIROPOULOS
---
POLITICAL BEHAVIOUR AND POLITICAL CULTURE: GREEK POLITICAL CULTURE AND VARIATIONS IN POLITICAL BEHAVIOUR
AUTHOR: MARO PANTELIDOU MALOUTAS
---
THE EPIDEMIOLOGY OF ADDICTION OF MIGRANTS AND GREEK USERS OF TOXIC SUBSTANCES. CONCERNS ABOUT THE THERAPEUTIC APPROACH OF DIFFERENT POPULATIONS
AUTHORS: KATERINA HLIOY, NATALIA SPYROPOULOU
SURVEYS USED: Investigation of the different characteristics in the epidemiology of dependence between migrants and Greek users of toxic substances.
---
GENDER AND POLITICAL PARTICIPATION IN THE GREEK PARLIAMENT, 1996-2015
AUTHOR: MANINA KAKEPAKI
SURVEY USED: Members of the Greek Parliament Database
---
DESCRIPTIVE STATISTICS AND HYPOTHESIS TESTING
AUTHOR: VASILIS GIALAMAS
SURVEYS USED: European Social Survey (2nd and 5th wave)
---
CORRELATION AND REGRESSION ANALYSIS
AUTHOR: VASILIS GIALAMAS
SURVEYS USED: European Social Survey (2nd and 5th wave)
---
MULTIVARIATE STATISTICAL METHODS
AUTHOR: VASILIS GIALAMAS
SURVEYS USED: European Social Survey (2nd and 5th wave)
---
COMPUTER ASSISTED INTERVIEWING (CAI)
AUTHOR: CONSTANTINOS - SYMEON NISIOTIS